Zubaz finds new audience as fans react to adidas KU basketball uniforms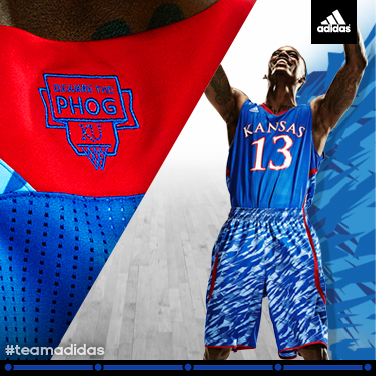 When he the saw the newly designed and widely panned uniforms Kansas will wear during the Big 12 tournament, Dan Stock joined in the laughter.
But not because he thought the camo-zebra stripe motif was ridiculous. Stock is president of Minneapolis-based Comet Clothing, creator of the ironically iconic Zubaz pants of the 1990s.
"We just sit back and laugh," said Stock, adding that traffic to the Zubaz website has soared ever since the new adidas unis were revealed yesterday. The basketball uniforms feature stripes – described by some as camouflage, zebra stripes by others, and likened Fruit Stripe gum by USA Today – that have drawn widespread condemnation from fans, even drawing a White House petition (since removed) to keep KU from wearing them.
"I'm convinced this is a marketing ploy by Duck Dynasty," wrote @danbjornson.
"I think these #Adidas uniforms look silly. We seriously wearing these?" asked @missamyhuser.
"Haha Glad #Mizzou is a Nike school! RT: @mlavieri: Is KU wearing Zubaz shorts? These are god-awful," mocked MU fan @JeffreyGriffith.
But for Stock, adidas' negative publicity is Zubaz's gain.
"When something like this happens, we just crack up," he said. The Zubaz Twitter account has been retweeting Zubaz-adidas references nonstop since the uniforms were unveiled.
"It's kind of fun," he said. "Social media went through the roof."
The uniforms will also be worn by Cincinnati, UCLA, Notre Dame, Baylor and Louisville. While the adidas zebra-camo pattern the Jayhawks will wear resembles Zubaz, it doesn't infringe on the pants' trademark, Stock said. But Stock doesn't mind the confusion.
"The more people think the zebra stripes are Zubaz, they go on the Internet and search (for) Zubaz," he said. Consequently, sales on the site – which describes the pants as "gnarly," "wicked" and "rad" – have risen in the last few days. "We're happy about that. It's free publicity for us."
That publicity has landed Zubaz mentions on media outlets such as TMZ, ESPN, USA Today and Forbes.
Zubaz saw their heyday at NFL stadiums in the 1990s, and Stock got out of the striped-pant game for a while. But he and a partner revived the brand four-and-a-half years ago, and will celebrate Zubaz's 25-year anniversary this year.
"Most people don't realize they're available anymore," Stock said.
The company inked a licensing deal with the NFL in October, Stock said, and he said he wouldn't mind a similar deal with the NCAA. Zubaz – now available in 43 patterns – are most popular in big football cities like Chicago and Buffalo, Stock said ("Buffalo fans are crazy. They started wearing them 25 years ago and haven't stopped."). And when the Chiefs traded for quarterback, Alex Smith yesterday, Zubaz's Facebook page posted an homage to the Chiefs – featuring a picture of KC cheerleaders that just screams "the '90s."
And the '90s revival that's arisen lately has opened up a new customer base for Zubaz: high school and college students.
"(It's) the whole nostalgia thing," Stock said. "They remember their dads and grandfathers and uncles wearing them."
If all pans out, sales in 2013 will double those of 2012, Stock said.
"They sky's the limit."